The The most common problem in an election system is creating a council with an off-center majority and one-sided policies.  Even with Proportional Representation, PR, all government power goes to whichever side, left or right, has the most reps.  Other reps and their supporters are usually powerless. El El problema más común en un sistema de elección es la creación de un consejo con un centro de fuera de la mayoría y una de las partes políticas. Aun con la representación proporcional, PR, todo el poder del gobierno el que va a lado, la izquierda o la derecha, tiene la mayoría de los representantes. Otros Representantes y sus partidarios suelen ser impotentes.
This This problem is pervasive.  Examples of conflicts it inflames fill two pages below.  They include loss of income and resources from reversals of timber laws; social polarization and losses from decades of failure to resolve questions such as abortion laws, social security or adoption of the Euro. Este Este problema es muy común. Ejemplos de los conflictos se inflama llenar dos páginas más adelante. Estos incluyen la pérdida de ingresos y de recursos de inversión de las leyes de la madera, la polarización social y las pérdidas ocasionadas por décadas de fracaso para resolver cuestiones tales como las leyes de aborto, la seguridad social o la adopción de El Euro.
To avoid off-center majorities, a council's decisive votes should not belong to the left or the right.  The powerful swing vote should belong to a central chairperson: the Condorcet winner. Para evitar el centro fuera de las mayorías, un consejo decisivo de los votos no debe pertenecer a la izquierda oa la derecha. El poderoso swing a favor de que se pertenece a un presidente: el ganador Condorcet.
To give her the swing vote, the election must distribute the other reps fairly and evenly around the center.  PR rules do that.  A community could simply elect some reps by PR and others by Condorcet's rule in separate contests. Para dar su swing de la votación, la elección debe distribuir los otros representantes de manera justa y uniforme en todo el centro. PR reglas hacerlo. Una comunidad puede simplemente elegir algunos representantes de PR y otros por Condorcet en la norma de separar los concursos.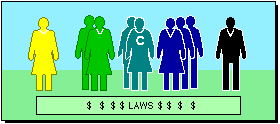 All ensemble rules tend to elect well-balanced councils like the one here, and the bold names on the PoliticalSim chart . Todo el conjunto de normas tienden a elegir a los consejos bien equilibrado como el que aquí, y la audaz PoliticalSim nombres en la tabla.
An ensemble rule may help find the middle ground even if voters are split as unevenly as 65:35.  This council's swing vote will belong to a chair from the majority.  But if the majority has no clear favorite in that election, the minority may cast the deciding votes.  The chair then knows she owes her victory, in part, to her popularity among minority voters. Un conjunto regla puede ayudar a encontrar el término medio, incluso si los votantes se reparten de manera desigual, como lo 65:35. Este consejo del swing voto pertenecen a una silla de la mayoría. Pero si la mayoría no tiene claro favorito en esta elección, la minoría podrá emitir El de decidir votos. El presidente sabe que después de su victoria se debe, en parte, a su popularidad entre los votantes de minorías.
This council?s reps know they must understand and propose policies that please the chair — and by extension, please moderates of the other side.  In this it is a bit like consensus .  But it does not push empathy as far as consensus and it is more decisive. Este consejo? S representantes saben que deben entender y proponer políticas que pueden ponerse en la silla - y por extensión, por favor, los moderados de la otra parte. En este sentido, es un poco como el consenso. Pero no empujar la empatía en la medida de lo que es el consenso y la Más decisivo.
Electing a central chairperson does not let a narrow, centrist minority of voters and their reps dictate the laws.  The Condorcet rule lets all voters influence which central candidate wins, and it will elect only about 1 out of 5 council members, so the PR reps may try to form a ring majority with no centrists.  As reps discuss an issue, the chair offers her views.  If her policy is narrowly centrist, some reps may negotiate a broader policy, balanced with acceptable ideas from their rivals and key ideas of their own. La elección de un presidente no permite un estrecho, centrista minoría de los votantes y los representantes de dictar las leyes. Condorcet La norma permite a todos los votantes que la influencia central candidato gana, y se elegirá a sólo 1 de cada 5 miembros de consejo, por lo que los representantes de PR Puede tratar de formar un anillo con mayoría no centristas. Como representantes de debatir un tema, el presidente ofrece sus puntos de vista. Si su política es restrictiva centrista, algunos representantes podrán negociar una política más amplia, equilibrada con aceptable ideas de sus rivales y de sus ideas clave Propia.
Ensembles do not give a chairperson the power and celebrity of European prime ministers or American presidents and mayors.  A PM dominates a ruling party.  A mayor commands the executive branch.  But an ensemble?s chair often is not the center of a ruling party; she cannot command; she moderates a dynamic council. Grupos no dan un presidente el poder de las celebridades y primeros ministros de Europa o de América presidentes y alcaldes. PM A domina un partido en el poder. Un alcalde comandos de la rama ejecutiva. Pero un conjunto? S silla a menudo no es el centro de un partido de gobierno; Ella no puede comando; ella modera una dinámica consejo.
A Condorcet chairperson interested in re-election must try to balance each policy.  A narrow or off-center policy exposes her to electoral defeat by a stronger moderator. Un presidente Condorcet interesados en la reelección debe tratar de equilibrar cada una de las políticas. Una estrecha o fuera de su centro de la política expone a la derrota electoral por un fuerte moderador.
All moderate reps have some power in majorities balanced around a chairperson who wants to stay popular on both sides of the center.  But a one-sided majority includes only half the moderates.  Thus moderates benefit from ensembles.  The losers are people whose income or self-worth is measured by war-like politics. Todos los representantes han moderado algunos mayorías en el poder equilibrado en torno a un presidente que quiera permanecer popular a ambos lados del centro. Sin embargo, una mayoría a una de las partes incluye sólo la mitad de los moderados. Moderados Por lo tanto beneficiarse de los conjuntos. Los perdedores son las personas cuyos ingresos o libre - El valor se mide por la guerra como política.
The chair's constituency is the whole populace, while the various reps advocate for narrower interest groups.  This accurate democracy makes a council's views as similar to the electorate's as practical.  Matching the median is priority 1 because policies often balance around the views of a council's swing voter. El presidente de la circunscripción es todo el pueblo, mientras que los diversos representantes defensor de los grupos de interés más limitado. Esto hace que la democracia precisa un consejo como los puntos de vista similares a la del electorado como práctico. Coincidencia de la mediana es de prioridad 1, porque a menudo las políticas de equilibrio en torno a las opiniones de un consejo del swing Votante.
It is ironic that broad Proportional Representation helps Es irónico que una amplia representación proporcional ayuda
a central Condorcet winner own a council's swing vote. Un ganador Condorcet un consejo propio del swing voto.
It shows that political diversity can be a source Muestra que la diversidad política puede ser una fuente
of balance and moderation as well as perspective. De equilibrio y moderación, así como la perspectiva.
A central swing voter can lead a diverse PR council Una central swing votante puede llevar una diversa PR consejo
to broaden its policies to include all moderates. Para ampliar sus políticas para incluir a todos los moderados.
Story: In the Pacific Northwest, many jurisdictions are politically polarized, split almost 50:50, with no great concentration of voters in the center.  The result has been intense hostility between poles, policy reversals and willfully irreversible policies.  That pattern would be changed by ensemble rules.  Neither pole could hope to capture a legislative majority.  Reps would find that to win anything, they must work with the center and some moderates of the other pole.  The new pattern may change our concepts of voting and government from tools for cultural war to tools for administering diversity and its freedoms. Historia: En el noroeste del Pacífico, muchas jurisdicciones están políticamente polarizado, dividido casi 50:50, sin gran concentración de votantes en el centro. El resultado ha sido una intensa hostilidad entre los polos, la voluntad política y las políticas irreversibles. Patrón Eso sería cambiado Conjunto de normas. Polo Ni podrían llegar a la captura de una mayoría legislativa. Representantes de ventas se encuentran que para ganar algo, deben colaborar con el centro y algunos moderados de la otra pole. El nuevo patrón puede cambiar nuestros conceptos de la votación y el gobierno de instrumentos para Guerra cultural a las herramientas para la administración de la diversidad y de sus libertades.
1950. Germany's parliament has reps from one-winner districts and reps from party-list PR.  This is almost an ensemble but:  The districts are not huge and heterogeneous; they use plurality rule so off-center candidates win most districts.  These reps do not form a central balance point for majorities.  Instead, the largest party usually forms a ruling majority with a minor party -- excluding all reps of the second-largest party from decision making. 1950. Parlamento de Alemania tiene representantes de un ganador de los distritos y los representantes de partido-lista PR. Se trata de un conjunto, pero casi: Los distritos no son grandes y heterogéneas, que utilizan las reglas para que la pluralidad fuera del centro de los candidatos gana la mayoría de los distritos. Estos representantes do No constituyen un punto central de equilibrio para las mayorías. En cambio, la mayor parte por lo general forma un gobernante con una mayoría menor parte - con exclusión de todos los representantes de la segunda mayor parte de la toma de decisiones.

The next pages in this chapter explore the merits of ensemble rules and show a few tally methods.  Before digging into the tally it would be good to consider what kind of rule is best for policy making - the subject of the next chapter. Las próximas páginas de este capítulo estudiar el fondo del conjunto de normas y mostrar algunos métodos de recuento. Antes de la excavación en el recuento sería bueno considerar qué tipo de Estado es el mejor para la formulación de políticas - el tema del siguiente capítulo.